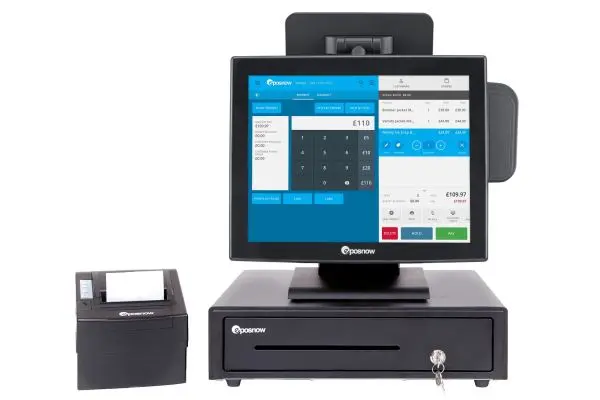 Point-of-Sale Software: What Can it Do For You?
Point-of-sale software can do an awful lot for your shop. All the big chains have been using point-of-sale software for years and with retail becoming an ever more competitive field, independents can't afford to fall behind. Currently as few as one in three independent retailers are using POS software. The rest are running on pen-and-paper, or excel.
For some retailers these old-fashioned ways of handling sales and inventory are a point of pride. It's a good feeling to know you're keeping up without having to rely on these modern, electronic systems. But by passing these duties on to an ePOS system, that keeps track of your business automatically you can focus your efforts on other important parts of your business that can't be run by a machine. Without having to fill in spreadsheets or hand-count inventory, you and your staff can save a huge amount of time. And remember, time is money, especially in retail.
If used properly, an ePOS system can be your new star employee. But first you need to know just what exactly point-of-sale software can do. Which is an awful lot. From tracking stock, to following your employees' sales figures, to keeping track of loyal customers through their card payments. Point-of-sale software can do it all. Even if you're one of the independents that has POS software in place, you might not be making the most of it. Many retailers don't realise the full extent of what point-of-sale software can do for you. well, really, it all starts with tracking.
---
Tracking, Tracking, Tracking
And yet more tracking. It's one of the most fundamental uses of point-of-sale software. You can use it to track sales and instantly connect your sales figures to your stock. You can use it to automatically monitor what your customers are buying and when they like to make their purchases. You can keep an eye on which of your employees are making these sales. You can follow your loyal customers and what they like to buy.
As we've all heard before, knowledge is power. By tracking these stats you can shape how you sell and who you target. You can shape staff rotas so you have the manpower you need, at the times you need it most. You can keep track of when your best customers like to shop and make sure you're there to greet them personally. A little knowledge can go a long way to helping your business thrive.
---
After Tracking Comes Analysis
Data is a valuable thing. With good analysis, data can inform even the toughest business decisions, letting you manage your business with confidence. And the thing is, your business has data. Data on every sale you make, every customer that buys from your shop, every item you sell. You have information on what sells when. You have info on which of your employees sells the most. Which of your customers buys the most when they shop. But most retailers aren't making use of this data. Many retailers don't realise that they have this data at their fingertips. Even if you do realise the value of it, getting this data together to analyse can be very time consuming. Fortunately, all good ePOS offer real-time sales reports, to keep you informed.
With the right point-of-sale software you can analyse all this data you collect to not just track what's been going on, but also predict what will happen next. Knowing what sold well, at what points in a year means you can predict what will sell well, when, next year. Without this sort of data analysis you've got to make a lot of guesses and assumptions. With it, you can make confident, fact-driven decisions that are more likely to have a bigger, more positive impact on your business.
---
Introducing Square POS as used by us..
Introducing Square, a fantastic subscription FREE system that includes get up and go card processing without a contract or need for telephone line with next day deposit, or same if required.
Just add a Square stand, iPad, Printer and Cash Drawer and you're ready to go, or just use a compatible iPhone or Android Phone if you're going Digital, Full demo in store and full set up and packages available.
The Point of Sale app and Dashboard functionalities are free to use, as opposed to paying a subscription which is how most other EPOS systems work. The Dashboard includes a free Virtual Terminal as well, which other providers normally would charge a monthly fee for. Extra staff management functions do, however, cost £3 per month for each employee account. If you want to integrate the POS with ecommerce or other online tools, this is paid for separately through the chosen platforms.
Software
Point of Sale app & Dashboard features – Free
Elaborate employee permissions – £3/month per employee
Partner apps (e.g. eCommerce, scheduling tools) – Varies
To take chip and PIN and contactless payments, you pay £29 + VAT for Square Reader with free delivery. There is one year warranty on the device, with the option to return the purchase within the first 30 days. Add a charging dock for an additional £19 + VAT, or get the complete Square Stand package for £129 + VAT including iPad stand, Square Reader and dock for the reader.
Hardware
Square Reader – £29 + VAT
Dock for Square Reader – £19 + VAT
Square Stand incl. Square Reader & Dock – £129 + VAT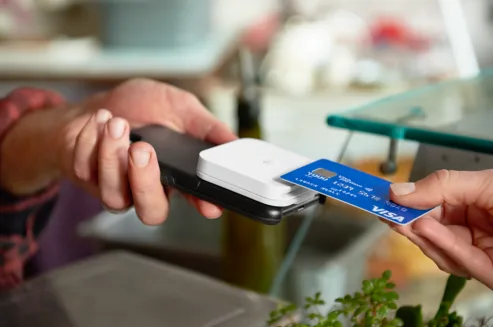 The card reader accepts chip and contactless cards and mobile wallets via NFC. These cost a 1.75% transaction fee for contactless and chip card payments and 2.5% for keyed-in and remote payments via the app, virtual terminal, eCommerce and invoicing.Next-working-day deposits to your bank account are free, but for 1% in addition to the transaction fee, you can get Instant Deposits into your bank account in just 20 minutes from the transaction.
Card Payments
Chip, contactless, swipe – 1.75% per transaction
Keyed-in, invoicing, remote payments – 2.5% per transaction
Instant Deposits – 1% in addition to transaction fee
---
Ease of checkout
The Point of Sale app allows you to switch between product interfaces grouped into categories of your choice. You see either a visual grid overview of products or list of categories. Physical products can be added to the product library, so you can just tap to add them to the shopping cart. If you don't have the appropriate item in the product menu or sell a custom service, you can just add the amount to the bill.After you tap "Charge", you pick your payment method (invoice included in options). You'll need to be connected with the Square Reader already via Bluetooth to take contactless and chip payments at this stage. You'll also need to be prepared to pass your smartphone or tablet to the customer for PIN entry if using a chip card, since the keypad will be on its screen.You can split the tender as well, allowing customers to pay e.g. some of the amount in cash and the rest with card. This could prevent some awkward situations where the customer may not have enough cash or card balance for the bill.
After the payment is processed, it gives you the option to send the receipt via email or text, or you can print it with a connected printer. Receipts can be customised in the backend of your account so it pretty much includes all the details you want.The beauty of this system is that even the first time you're using it, the checkout process is straightforward enough to get on the spot. However, we highly recommend adding all the possible discounts, VAT info, products and prices in advance so your receipts contain all the payment information customers will want on record.
---
Features
Square Point of Sale's features are more than just basic, with its little extras here and there that help you run your overall business more smoothly. For example, stock level alerts elevate the standard inventory functions, and gift cards are a nice extra that's not usually included in POS apps. Let's have a closer look at some of the noteworthy features.
Inventory management: The inventory library allows you to keep track of stock levels, and you can differentiate between product types and add detailed descriptions and options around these. Using this also allows you to analyse your sales in relation to what you sell and who is selling what. When your items are low in stock, you can receive stock level alerts to remind you of this.
Open orders and tipping: Cafés and other establishments where you run a tab for customers can use the open ticket features to juggle multiple orders at the same time. These can be edited, merged and split in to separate bills. Each order can be marked as eat-in, takeaway, for delivery or pick-up, and you can add tips to any payment by adding a custom amount to the bill.
Even though Settings give you more complicated tipping options, when we switched on these settings, tipping did not show in the app as an explicit feature.
Invoicing: Send or schedule detailed invoices directly from the app, track the payments and see which ones are overdue. Invoices can include file attachments, and you can either send them by email or share an invoice URL manually. Customers who haven't paid can receive payment reminders.
Customer loyalty: Create customer profiles that collect their sales history, save card details for next time, and let you text or email follow-up messages. Special discounts and vouchers can be applied to transactions, even time-limited offers can be automated. Get customer feedback through the digital receipts.
Refunds: Refunding is free and flexible through the app. Choose between refunding individual items you pick from the transaction, or set a custom amount.
Employee management: Create multiple employee accounts that can sign in to the app separately.
At the start and end of each shift, staff members can clock in and out, storing work hours in the backend, or you can manually create timesheets for your staff. The only staff permission you can set for free is whether the person can issue refunds, but standard 'Mobile' users will have limited permissions compared to the Admin user. For an extra fee month per employee account, you can customise detailed permissions.
Offline mode: Is your network connection unreliable? Operate the checkout flow and take cash payments when the app is not connected to the internet. The system will sync the new data when back online.
Gift cards: You can sell gift cards through the app and even offer a choice of card designs covering birthdays, get well cards, thank you cards, and other common occasions. This features doesn't cost extra – you just pay the normal card transaction fee per gift card sold. At checkout, it will give you the option to accept the gift card as a means of payment.
Multiple location management: Businesses who operate in more than one location (e.g. if you have more than one shop) can add multiple locations to the Square account. Analyse sales per location or transfer transactions to separate bank accounts according to preference.
Reports and analytics: Because sales are recorded in real time, you can access the backend account to analyse sales figures any time from your browser. It's possible to run custom reports of sales, analysing various aspects like discounts, payment methods, sales trends and voids. At the end of each day, you receive a daily sales report in your email inbox. Should you need to send or store your sales reports, you can export these to Excel or Xero.
We should mention that some features are only available on iPad, but the far majority of POS functions will work on any device compatible with Square.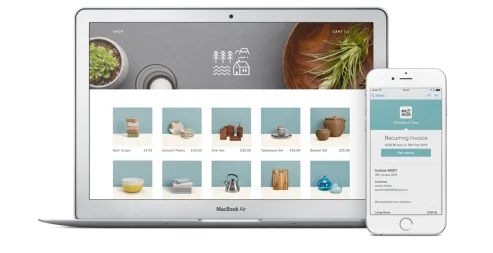 ---
Payments
Square Point of Sale only works with Square Reader for contactless and chip and PIN payments. With this comes a complimentary swipe reader which is only for international cards using swipe. If you prefer using another card machine, you will need to use a different POS system compatible with that terminal.
Square Reader differs from other UK card machines since it has no keypad on the reader itself, so customers need to enter their PIN on the smartphone or tablet screen using the Point of Sale app.
Technologically, this is no problem and has officially been deemed secure, but some sceptical UK customers may need a little convincing to feel safe entering their PIN this way.
A way to combat this is using the Square Stand for iPad, which can be swivelled between the till assistant and customer for PIN entry. The stand makes it look more professional, so you avoid second thoughts from the customer's side. Furthermore, the Square Stand has a swipe slot at the front for magnetic stripe cards.
Square enables you to take payments whether your customer is present or not, although transaction costs are a bit higher for remote and keyed-in payments. You can take telephone, mail order or online payments through Square's virtual terminal by manually entering card and transaction details. This handy feature is accessible when you log in to your Square account in a browser. Keyed-in card transactions can be done at checkout in the mobile app.
Through both the app and browser, it is possible to send invoices via email or share it as a URL. If you plan to venture in to online sales, Square can be integrated with several ecommerce tools such as WooCommerce and Wix. Any integration comes at an extra cost, depending on the other platform's pricing.
---
Hardware and accessories
Square can be integrated with a range of shop-floor hardware, allowing the system to operate as a countertop POS system. It can also work as a pocket-sized point-of-sale from just the phone app and card reader, enabling you to take cards anywhere with a network connection. The question is: how elaborate do you need the POS system to be?
At a stationary till point, it would be obvious to get the Square Stand, which holds an iPad while you use the Point of Sale app. It has an inbuilt swipe slot for magnetic stripe cards and a swivel mechanism so you can turn the screen to face the customer for PIN entry. You can also get a charging dock for the Square Reader, which not only keeps the card reader charged all day – it gives off a more professional look at the checkout.
Most equipment is only compatible with iPad (including Square Stand), which is also what most people like to use Square with. For a complete point of sale, an iPad would therefore be a crucial investment in most cases, particularly if you want to use a mobile receipt printer, since none of those work with Android. If you're using a USB-connecting printer, cash drawer or barcode scanner, you will need Square Stand too because it has a USB socket which iPads don't.
The compatible hardware includes cash drawers, receipt printers, heat-resistant kitchen printers and barcode scanners (see table below), and you can connect a keyboard via Bluetooth if using iPad. To open the cash drawer automatically, it must be connected to a compatible printer.
Note that the Square Point of Sale app only works with a tablet or mobile device. You cannot use a computer, whether Mac or PC, as your checkout screen, although the backend Dashboard functions can be accessed from any browser.